Coming over to my house lately you'll find a tornado of projects strewn about. Must be that "nesting" stage they talk about. It's also really clear that this will be the third child because nothing is done.
With Jayda, her room was completely set up, clothes washed and put away ready for her arrival months in advance. The first child syndrome was true to the core.
With Maya I had her room all done, not as early as Jaydas was, but still it was done. The clothes which were all Jaydas hand-me-downs (typical of the second child) were put away probably a couple weeks before she arrived, thanks to the enlisting of Alexa and Bailey who graciously came over to help me sort through them and hang them up.
Now here it is on the brink of our third baby girl Leona and there is stuff EVERYWHERE :) I just have bags of clothes laying all over the bed in her room, untouched, glaring at me everytime I walk by. I finally talked Chris into putting the crib back together the other night just to get the pieces out of the way and to create some space, so check that off for something done at least.
The only thing done is Jayda and Mayas room. They will be sharing when Leona comes. It's a sensitive subject. Jayda didn't want to give her room up to her new sister that would be arriving. In her mind she should share a room with mom and dad (never gonna happen) or move in with Maya. After coaxing her for months and explaining that the blue room is bigger, reminding her that she loves the color blue, and that she will have so much fun sharing with maya she finally agreed it was a good idea. (I'm glad too b/c she was moving either way, better for her to think it was her idea lol) Chris is DREADING them sharing a room. In his mind he dreams up nights of no sleep with the girls giggling til 2 in the morning or keeping eachother up. We'll be up with a newborn anyway I tell him, he rolls his eyes and then starts stewing about it all over again.
Bless Chris for putting up with all of us girls. I bought an old ugly yellow and gold dresser from craigslist to put in the girls new room. It was AWESOME!! Not the color but the shape of it. The lines, the legs, I just loved every bit of it. We got it for like 35 bucks, then 2 weeks later found the EXACT same dresser and mirror (ours came with a mirror too) at 2 different antique shops for 400 bucks. Lets just say craigslist ROCKS! I of course did not want a gold and yellow dresser in their room so with Chris by my side......him doing 99% of the work...again BLESS HIM we proceeded to strip the paint off, not a fun task and I DO NOT recommend it to anyone, sand it down to the original wood and then I stained it a rich dark color and painted the handles a cool blue. I found a chair at good will for $1 as well and sanded it down and stained it to match and the result was awesome. My mom was like why dont you just buy a dad gum dresser (said in her southern accent) instead of doing all that work, or rather making chris do all that work, but there's something to be said for old antique quality furniture and I love knowing that we made it for our girls. Here was the result:
At first it looked a little something like this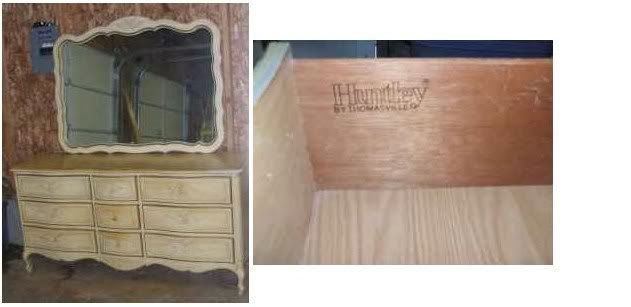 I found another lady that redid the same one from craigslist as well and I LOVED it but chris couldn't handle the yellow lol so I went with the brown and blue handles